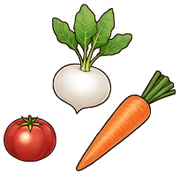 Tomato (トマト, Tomato) is an item in the Rune Factory series.
Appearances
Tomato
WIP
This bright red vegetable is highly nutritious and can be eaten raw or used for sauce.
TYPE

Food

COST

80

EXPIRTY
0
PERIOD
---
Tomato grows from Tomato Seeds. Aaron and Aria can find it by using Inquisitive Waltz in Palermo Shrine. It's also the consolation prize for the Monster Taming Contest in the first generation.
TOMATO
ー

Vegetable

Shiny and red, like the summer sun. Packed with nutrition and highly versatile.
DEFENSE
ATTACK
CHARGE
GROWTH
BONUS
+10 HP, +5 Strength
210G
Recipes
Gifts
Tomato
WIP
Shiny and red, like the summer sun. Packed with nutrition and highly versatile.
Category

Veg

Sell

300G

Buy
900G
| | | | | | | | |
| --- | --- | --- | --- | --- | --- | --- | --- |
| Effect | HP Rec | RP Rec | HP Max | RP Max | STR | VIT | INT |
| 3hrs | +15 | +10 | ー | ー | ー | ー | ー |
Gifts
Tomato
A brilliant tomato, ruddy red like the summer sun. Popular for its high nutrition and health benefits.
Category

Vegetable

Sell

540G

Buy
1800G
| | |
| --- | --- |
| [Effects] HP +180 | [Upgrade Info] [Difficulty] 43 STR +9 |
Gifts
Tomato
ー
Category

Vegetable

Sell

G

Buy
G
References
Items in the Rune Factory Series