This article or section contains information about an unreleased video game or character.
The content may change dramatically as more information becomes available.
Rune Factory 5 (ルーンファクトリー5, Run Fakutori 5) is an upcoming game in the Rune Factory series.[5] It is set to be released May 20, 2021, in Japan for the Nintendo Switch.[1]
Synopsis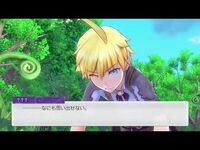 Set off on a grand adventure in a fantasy world in the latest entry in the Rune Factory simulation RPG series. After losing their memory, the protagonist lands in a town named Rigbath. There, they are recruited into a band of peacekeeping rangers, and their new life begins. The protagonist then rushes to help the girl from the monster, and is thanked for helping her, then invites them to a security organization called Seed. In order to protect the peace of the town, the protagonist must solve various cases.
In addition to their normal duties, the protagonist can tend the farm, cast a line into the nearby river, and many more! Team up with townspeople to battle monsters and unleash powerful attacks.[6]
Plot
In the Kingdom of Norad, a girl wanders in the forest by herself. She is nearly attacked by a Wooly and screams. Lying on the ground nearby, the player wakes up without memories but realizes they to help the girl. They defeat the monsters and are escorted back to the girl's town, but collapses at the gate. While attempting to take a step out of town, Priscilla and Lucy witness this and rush over to help.
The player wakes up at the clinic and meets Simone and Murakumo, revealing to both of them that they suffer from amnesia. Lucy is not sure if they should allow the player to stay, but her mother suggests they try the Soul Sphere. She goes to Seed Station and introduce them to Livia. As the player touches the Soul Sphere, it shines brightly, surprising everyone. Livia says that the player is not dangerous.
Development
Due to the success of Rune Factory 4, the creator, Yoshifumi Hashimoto, said the game's reception was good enough to green light a sequel in a Famitsu article[7], though did not say that it was in development. During the February 2019 Nintendo Direct, it was announced that Rune Factory 5 was in development.
In the May 2019 issue of Nintendo Dream, two developers (Maekawa and Hashimoto) said that they are excited for the games progress and hoped people will like it[8]. During Marvelous' latest financial results briefing, they said that Rune Factory 5 will "definitely not" release before April 2020.[9]. On July 25, 2019, a teaser trailer was shown during the end of a Rune Factory 4 Special livestream[10] On September 17, 2020, a gameplay trailer for Rune Factory 5 was shown off in a Nintendo Direct Mini: Partner Showcase.[11]
Content
Features
Premium Box
Gallery
Links
References