Rune Factory 4 Special (ルーンファクトリー4スペシャル, Rūn Fakutorī 4 Supesharu) is a game[4] in the Rune Factory series. The game was released on July 25, 2019[5] in Japan, December 5, 2019 in China and Korea, February 25, 2020 for North America, and February 28, 2020 in Europe and Australia for Nintendo Switch. Age Rating was changed E10+ to Teen. This is only Rune Factory to have Teen Rating. At E3 2021, the game was announced to be coming to PlayStation 4, Xbox One, and Steam in Fall 2021.
Features
HD Graphics
Newlywed Mode
Hell Difficulty
Additional Movies
Another Episode DLC
Swimsuit Day DLC
Version Differences
Many Town Events are now prioritized if requirements have been met. This includes Memories, which unlocks the last story arc and the events required for marriage.
The map has been moved to the main screen and can be removed and resized with the press of a button (the Switch has only one screen) or by using the touch screen icon.
The teleport spell has been mapped to a dedicated button. It can still be used from the touch screen.
You can now change the voice acting language between English and Japanese.
Many bug fixes.
Development
During the February Nintendo Direct in 2019, it was announced that Rune Factory 4 Special was in development.
Special Edition
The Rune Factory 4 Special Memorial Box (メモリアルボックス, Memoriaru Bokkusu) was announced on April 2, 2019[6]. On September 9th, 2019 the Rune Factory 4 Special Archival edition was confirmed for America, Europe, and Australia[7]. The box contains 5 things:
1: A specially animated box
2: A compilation book of character art
3: A drama CD (JP only)
3: Original soundtrack (US & EU only)
A special event download code
Rune Factory 4 Special
Opening Song
Opening Song Rune Factory 4 Special (ルーンファクトリー4スペシャル, Rūn Fakutorī 4 Supesharu) was performed by Joe Rinoie with Anzai Miki (ジョー・リノイエ with 安西美品) by title Kono Omoi wo Nosete (この想いをのせて)
Newlywed Mode
Bachelors
Bachelorettes
Others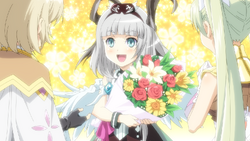 Gallery
Links
References