Rune Factory: Tides of Destiny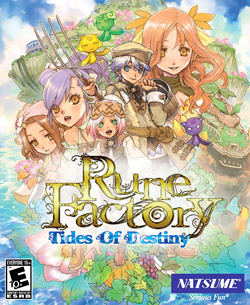 Platform(s)
Nintendo Wii
PlayStation 3
Rune Factory: Tides of Destiny (ルーンファクトリー オーシャンズ Rūn Fakutorī Ōshanzu, lit. Rune Factory Oceans) or Rune Factory Oceans in Europe, is a Wii and PlayStation 3 role-playing game developed by Neverland Co. and published by Marvelous Entertainment.
Players control a male and female character in one; the male protagonist, whose name is Aden, and the female protagonist, whose name is Sonja, as they traverse the seas on a giant plant golem named Ymir, with whom they will be able to raise islands, ships, and other things to explore from the sea. Players will be able to farm, fight using a real-time battle system, and form relationships. The game was released on February 24, 2011 in Japan.
The PlayStation 3 version of the game supports the PlayStation Move motion controller, and is the first instance of a Rune Factory game appearing on a Sony home system. The North American publisher Natsume picked up the localization rights to the game. The game was set to be released on September 27, 2011, but was pushed back to October 7th.
Rising Star Games Europe picked up the rights and released the European version on May 25, 2012.  However, it was only released for the PlayStation 3 due to the Wii version being cancelled.
Characters
Protagonist
Bachelorettes
Bachelors
Villagers
Guest Characters
Pages
Links