This article or section contains information about an unreleased video game or character.
The content may change dramatically as more information becomes available.
Rigbarth (リグバース, Rigubasu) is a location in Rune Factory 5.
A town that lies between a kingdom and a previously existing empire. In addition to former inhabitants of the kingdom and the old empire, various races live here. As a normal town with a small population, Seed is currently stationed in town to maintain its peace and livelihood of the town. Simone, a female doctor and current mayor, is working to enrich the town. The results are beginning to be seen, little by little, such as the opening of a new inn and restaurant[1].
Layout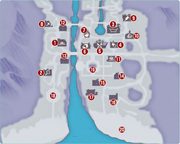 #
Name
Residents
1
Seed Station
Ares, Alice, Livia, Scarlett
2
Terry's Detective Agency
Terry
3
Ichigo Ichie
Murakumo
4
Rigbarth Clinic
Simone, Lucy, Julian
5
At Your Fancy
Fuka
6
Happiness
Randolph, Yuki
7
Sparkle General Store
Misasagi, Hina
8
Strike
Dogu
9
Palmo's Atelier
Palmo,

Lyka

10
Schiller
Heinz
11
Cutie Rose
Ludmila
12
Martin and Cecil's House
Martin,

Cecil

13

Elsje's House

Elsje, Priscilla
14
House
15

Lucas' House

Lucas
16
Empty House
-
17
Belfa Ruins
Beatrice, Reinhard
18
Busy Space
-
19
Big Tree
20
Ripple Beach
Gallery
References
↑

ある王国とかつてあった帝国の境界にある町。王国出身者のほか、旧帝国からやってくる人など、さまざまな種族が住んでいる。平凡な町ゆえに人口が減少し、現在はSeedが駐留して町の平和と生活を維持している。女医のシモーヌが町長を兼務し、町を豊かにしようと活動しており、新しく旅館やレストランができるなど、その成果は少しずつ見えはじめている。
 

Characters

Protagonist

Bachelorettes

Bachelors

Villagers

Children

Guests
 

Rigbarth

Overworld

Dungeons