"A knight of my stature cannot abide a loss."
―Reinhard
Reinhard (ラインハルト, Rainharuto, Reinhard[1]) is a character in Rune Factory 5.
Profile
Personality
A talented knight who pledged an oath of fealty to the Kingdom of Norad and has a long history in politics. The reason behind his visit to Rigbarth remains unknown. Possesses a strong sense of duty and a fierce intellect, but since he never tries to force his morals on others, he's earned a reputation as a trustworthy person. However, he starts to share a whole different side of himself with the protagonist.
Similar to Forte, Reinhard is noted to be a terrible cook. He shows concern regarding Beatrice as she did not have to deal with any form of hardship in life until now and is worried over the culture shock is going through.
Appearance
Reinhard has a long, unbraided ponytail.
Story
Reinhard first appears as the guard of Beatrice after the player clears the Belpha Ruins, and the two take their residence in the dungeon's upper floor though Reinhard's quarters are directly next to the entrance just in case. He and Livia also ask for the player to keep Beatrice's status as a princess hidden from the rest of the townsfolk lest news of the matter cause a disaster.
Gifts
Loved
"What? Surely you don't mean to give me this... Thank you so very much! But how can I ever repay your kindness...?"
Farm tools over level 45, Sandwich, Toast, Jam Roll
Liked
"You're giving this to me? Thank you. You are most kind."
Formuade, Invinciroid, Cold Medicine, Object X, Silver Boots, Iron Shield, Mail, Turnip Seeds, Pink Turnip Seeds, Strawberry Seeds, Yam Seeds, Potato Seeds, Failed Dish, Disgusting Food
Neutral
"Ah, thank you. Take good care of your things, and they will take good care of you."
All items not listed in previous categories
Disliked
Crystals, Gems, All other Trash items
Hated
Cores
Battle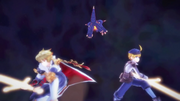 Stats
Lv
HP
ATK
DEF
M.ATK
M.DEF
STR
VIT
INT
20
850
176
48
40
40
115
80
40
Weapon
0%
0%
0%
25%
0%
0%
0%
Long Swords
Skills
Skill
Requirements
Relationship
Level
3
-
1
Heart
-
1
1 Heart
-
41
Wind
-
71
Power Wave
Lovers
51
Double Sonic
Lovers
81
Gallery
Sprites
Trivia
Reinhard is of German origin, coming from Raginhard, a combination of Germanic ragin meaning "advice" and hard meaning "brave, hardy".[3]
References
↑

家でもいいが、髪に飾ってもいいと思う。あなたのかわいらしさを引き立てる。
 

Characters

Protagonist

Bachelorettes

Bachelors

Villagers

Children

Guests
 

Overworld

Dungeons