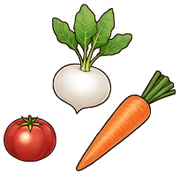 Potato (ジャガイモ, Jagaimo) is an item in the Rune Factory series.
Appearances
Potato
This widely popular and versatile vegetable can be used in a variety of dishes.
TYPE

Food

COST

120

EXPIRTY
0
PERIOD
---
Potatoes are grown from Potato Seeds. Aaron and Aria can find Potatoes by using Inquisitive Waltz in Messhina Valley.
POTATO
ー

Vegetable

A widely-loved vegetable that can be anything from a food staple to a hors d'oeuvre.
DEFENSE
ATTACK
CHARGE
GROWTH
BONUS
+10 HP, +5 Magic Attack, +2 Magic Defense, +5 Intelligence
240G
Recipes
Gifts
Potato

WIP

 

Food

0
Potato
WIP
A beloved veggie that can be anything from a food staple to a hors d'oeuvre.
Category

Veg

Sell

280G

Buy
840G
| | | | | | | | |
| --- | --- | --- | --- | --- | --- | --- | --- |
| Effect | HP Rec | RP Rec | HP Max | RP Max | STR | VIT | INT |
| 3hrs | +5 | +5 | ー | ー | ー | ー | ー |
Gifts
Potato
A good crop needed in every springtime farm. Delicious both alone or as an ingredient.

WIP

Type

Crop

HP Recovery
8
Special Effects
Value
110G
RP Recovery
0
Effect Time
0
Potato
Loved by people from around the world. Used in various recipes from appetizers to main dishes.
Category

Vegetable

Sell

90G

Buy
600G
| | |
| --- | --- |
| [Effects] HP +40 | [Upgrade Info] [Difficulty] 7 VIT +2 |
Gifts
Potato
Category

Vegetable

Sell

G

Buy
G
References
Items in the Rune Factory Series