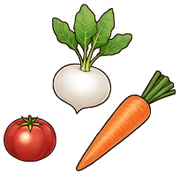 Onion (タマネギ, Tamanegi) is an item in the Rune Factory series.
Appearances
Onion
WIP
Possessing a strong flavor when eaten raw, onions taste milder when cooked.
TYPE

Food

COST

70

EXPIRTY
0
PERIOD
---
Onions are grown from Onion Seeds. Aaron and Aria can find it by using Inquisitive Waltz in Trieste Forest and Palermo Shrine.
ONION
ー

Vegetable

A vegetable that's crisp when raw, but mellow after being fried. Causes tears when chopped.
DEFENSE
ATTACK
CHARGE
GROWTH
BONUS
+10 HP
220G
Recipes
Gifts
Onion
Crisp when raw, mellow when fried. Chopping it doesn't make your eyes water...it makes you stronger.
Category

Veg

Sell

780G

Buy
3120G
| | | | | | | | |
| --- | --- | --- | --- | --- | --- | --- | --- |
| Effect | HP Rec | RP Rec | HP Max | RP Max | STR | VIT | INT |
| 3hrs | +20 | +30 | +5 | ー | ー | ー | ー |
Gifts
Onion
When raw it has a sharp taste, but turns mild when cooked. Many cry chopping onions, but those tears aren't for you!
Category

Vegetable

Sell

800G

Buy
6700G
| | |
| --- | --- |
| [Effects] HP +150 | [Upgrade Info] [Difficulty] 37 VIT +10 |
Gifts
Onion
ー
Category

Vegetable

Sell

G

Buy
G
References
Items in the Rune Factory Series