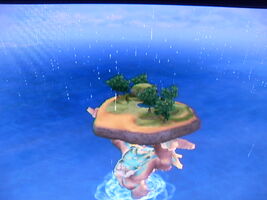 Description: Something lies beneath the waves...
Nameless Island is an island that frequently appears throughout the Ocean surrounding Fenith.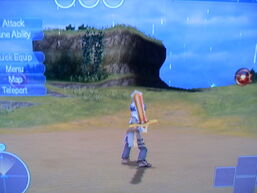 Overview
Nameless Island, or more correctly, the Nameless Islands, are generic undersea islands that can be found throughout the sea and hold a variety of secrets, monsters, and treasures. They are characterized in having a singular pool of water, no trees, and a dominant earthen mound.
Most, if not all, are Temporary.
They can be found at these locations:
D-4, D-5, D-6, D-7, E-3, E-8, and F-9 Quadrants.
Similar to the Temporary Shrine Islands, they are not hard to find, since Sonja (or one of the Protagonists) alerts you to their presence.
On the Islands
Monsters
Wooly
Fluffy
Chipsqueak
Buffalo
Dark Unicorn (?)
Goblin
Goblin Pirate
Troll
Slime
Claw Dragon (via "Super Gate")
Hornet
Weagle
Red Troll
Buffamoo
Ants
Black Ants
and many more....
Loot/Treasure
For the sake of shortness
Monster drops from the above mentioned.
Small Treasure Chests (Treasure chests at the top of the earthen mound).
Importance
Most, if not all of these islands play no major part in the story line save a few character requests.
Even with the above mentioned, the variety of monster wildlife gives a great opportunity for the player to level up for the Elemental Shrines and more important and less generic islands.
Trivia
Even though the salvaging sequence shows the Nameless Island to have trees, when going ashore it, the player can see it has none.
The external view of the island is in the same design as Verde Island.
References
 

Characters

Protagonist

Bachelorettes

Bachelors

Villagers

Guests