"Please don't talk to me right now."
―Martin
Martin (マーティン, Mātin, Martin[1]) is a character in Rune Factory 5.
Profile
Personality
An apprentice striving to become the greatest blacksmith the world's ever known. Not fond of talking to others and easily misunderstood due to his blunt nature. Takes immense pride in his work (it's rumored that he secretly names his tools) and usually only has smithing on his mind, but his world starts to change once he meets the protagonist.
Appearance
Martin has pale skin with fern green hair and stern-looking amber eyes. He dresses in a sleeveless gray turtleneck, a strapped vest made with leather shoulders made of a dark cloth and silver arm guards over long white gloves. He also dons a leather apron with a maroon belt, navy flared shorts and pink lace-up boots.
Story
When the protagonist first enters the blacksmith's, Martin will teach him or her to smith weapons and farming equipment. He gives the protagonist Iron used to make a Claymore.
Gifts
Loved
Draconic Stone, Orichalcum, Fruit Sandwich
Liked
"You're a life-saver."
Ores, Fruits, Scrap Metal, Scrap Metal+, Ammonite, Pink Melon, Conqueror Melon
Neutral
"That's nice." "Sure, I'll hold onto it for now." "Thanks."
All items not listed in previous categories
Disliked
"Are you trying to fight me?"
Mushrooms, Abalone, Blowfish, Object X, Dry Grass, Weeds, Failed Dish, Super Failed Dish, Stone, Branch, Empty Can, Boot
Hated
Awabi butter, Blowfish Sashimi, Grilled Blowfish
Battle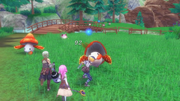 Martin is able to accompany the protagonist into battle.
Stats
Lv
HP
ATK
DEF
M.ATK
M.DEF
STR
VIT
INT
1
62
40
22
3
13
11
9
3
Weapon
25%
0%
0%
0%
0%
0%
0%
Hammers
Skills
Skill
Requirements
Relationship
Level
Giga Swing
-
31
Stardust Upper
-
61
Tornado Swing
-
81
Fire
Lovers
51
Gallery
Sprites
Trivia
References
 

Characters

Protagonist

Bachelorettes

Bachelors

Villagers

Children

Guests
 

Overworld

Dungeons