"Hmm... What to do? Rock-paper-scissors?"
―Lucy[1]
Lucy (ルーシー, Rūshī, Lucy[2]) is a character in Rune Factory 5.
Until you are formally introduced to her she is known as "Energetic Girl".
Profile
Personality
A childhood friend of Priscilla who's always there to cheer her up and make sure she doesn't find herself in any dangerous situations. Loves physical activity, hates losing, and constantly challenges the protagonist to competitions. She's in high spirits all the time and gets along with just about everybody, but quickly grows lonely without any company.
Appearance
Lucy has light tan skin with sea foam green eyes and blonde silver like hair tied in a single bun, held by a green hair clip. She wears a unique hair ornament on one side of her bangs with green beaded earrings. She has freckles on her face which if you comment on, she gets shy about.
Story
Lucy is first seen encouraging Priscilla to venture out of town and overcome her timid nature until Hina arrives with the injured player. Despite Lucy's doubts about allowing a stranger in town, Livia allows the player to become a ranger for SEED. Initially, she and Priscilla act as volunteers for Livia, but after the player clears the Belpha Ruins, the two reveal that the player's actions have cleared up most of their work, and they are now looking for a new job. Depending on the player's choice, Lucy becomes a clerk for either the bakery or the general store.
Events
Cryptid Sighting
Lucy can be found at the Great Tree Plaza talking to Cecil and Priscilla. Cecil says that he has discovered a mystery. Even before learning what it is, Lucy challenges the main character, saying she can solve the mystery before them.
Cecil reveals that a cryptid has been spotted outside The Blue Moon at night. The girls are skeptical, saying that it might just be a shadow "like last time" or some sort of business promotion by Murakumo. The group along with the main character go to the inn to investigate.
Murakumo doesn't know what the cryptid might be, but he has also heard the rumors from his guests. Although he appreciates the new business, as cryptid hunters have come to gather at the inn, he asks the group if they would be willing to help him find whatever it is.
Cecil, Lucy, Priscilla, and the main character agree to meet up that evening. The group decides to eat some food while they wait for the cryptid, until suddenly a ghost appears. Priscilla, Lucy, and Cecil run upstairs to encounter two ghosts. However, when they are confronted, it turns out to be Julian and Hina wearing costumes. Lucy gets frustrated with them both and scolds them for being out so late.
However, before everyone leaves, the children wave and say goodbye to their new "friend", revealing that there is a ghost at the inn after all! The screen fades to black with everyone screaming.
The next day, the group goes to Murakumo to report their findings. However, they keep the truth secret and say that it was just Julian and Hina, much to Murakumo's delight. Lucy pulls the main character aside and declares their competition a draw because while she was the one who discovered the children, the main character actually caught them. Regardless, she wants to do something like this again.
Unnamed Event
The player will find Lucy enjoying a letter near the Pond of Hope. Lucy states that she has been exchanging letters with Priscilla and recently received a hand-knit toy as thanks for some fruit that was previously sent. Lucy reflects that Priscilla is far more amazing than her, envying her friend's skills in domestic work and more feminine behavior. Before the player can comment further, Lucy follows-up that she was only joking on the matter and rushes home to prepare a new letter to Priscilla.
A Present
While paying a visit to the clinic, the player finds Lucy and her family gathered up as they received a letter and a package from Lucy's father. Lucy would show a new mirror given to her, but its looks remind her too much of her father and how she misses him. Priscilla then leaves to show Priscilla and the other townsfolk her new gift, and Simone comments that Lucy inherited her father's knack for adventuring. Simone and Julian, however, then note that Lucy's own behavior was changing recently as she would've never admitted she missed her father until that point.
The next day, the player spots Reinhard, Randolph and Martin all blurting out their own secrets to the Beatrice, Yuki and Darroch respectively, and it is revealed the next day that they had accidentally seen Lucy's mirror and were compelled to tell the truth. The player talks with Lucy regarding the recent events, but a bird snatches her mirror and flies off to the Phoros Woodlands. Simone would later arrive and confirm the player's theory as the mirror was formerly used to reflect a defendant's life in court, and asks the player to help retrieve the mirror from Lucy in fear that all her bottled emotions would come to light.
After chasing Lucy to a tree, the player volunteers to reach out for the mirror themselves, but accidentally falls when the bird tries to stop them. Lucy immediately rushes to their aid with her first-aid kit, and formally apologizes for treating the player as an outsider in their first meeting as she felt too awkward to say anything on the matter before as she had grown attached to them. When the player gets up, they find the mirror had already broken, meaning that Lucy spoke for herself rather than under the mirror's influence.
Although embarrassed to tell the truth again, Lucy takes the broken mirror back as a souvenir and challenges the player to a race back to town.
Requests
Try Shipping
Lucy requests that the protagonist ships a turnip she supplies. The quest will not be completed until 8:00 AM the day following putting the turnip in the shipping bin. After checking the board, Spinach (x4) and Potato Seeds (x4).
Relationships
Simone is Lucy's mother. Lucy tried to help out her mother and worries for her health along with her little brother Julian.
Priscilla is Lucy's childhood friend. She is rather protective of her and seems to care a lot for her wellbeing. The two often sit together at desks in the Rigbarth Outpost until you pick where they will work in the future the Bakery or the General store. But they do sit in their old spots in the morning if you marry one of them. They also continue to find ways to spend time together which you can find out through Marriage dialogue.
Julian is Lucy's younger brother. She can be a bit harsh on him, but it's clear that she cares.
Loved
Glitter Snapper, Tuna, Salmon Onigiri, Sacred Pole, Famous Pole
Liked
Fish, Fishing Poles, Milk, Fruit, Monkey Plush
Disliked
Uh, gross. I can't stand this stuff.
Spider's Thread, Ghost Hood, Object X, Scrap Metal, Trash
Hated
Devil Horn, Devil Blood, Skull
Battle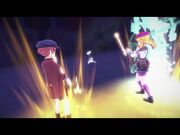 Stats
Lv
HP
ATK
DEF
M.ATK
M.DEF
STR
VIT
INT
1
63
35
4
4
4
6
8
4
Weapon
25%
0%
0%
0%
0%
0%
0%
Short Swords
Skills
Schedule[4]
Schedule
Morning
Noon
Evening
Night
Midnight
6
7
8
9
10
11
12
1
2
3
4
5
6
7
8
9
10
11
12
Normal
Weekdays (before Restaurant opening)
Clinic (all day when raining or snowing)
Rigbarth Outpost
Clinic
Blue Moon
Clinic
Clinic (sleeping)
Holidays (before Restaurant opening)
Clinic (6am-6pm when raining)
Great Tree Plaza, Rigbarth Stone Bridge or walking
Blue Moon
Clinic
Clinic (sleeping)
Weekdays
Home
Sweet Hearth or Serendipity
Home or (Lackadaisy after marriage)
Blue Moon
Home
Home (sleeping)
Holidays
Home
Great Tree Plaza, Orpha's Stone Bridge or walk (6am-6pm at home when raining)
Lackadaisy
Blue Moon
Home
Home (sleeping)
Home
Ripple Beach or Melody Lake (7am-4pm at home when raining or snowing)
Blue Moon
Lackadaisy
Home
Home (sleeping)
Storm
Home
Home (sleeping)
Date
Normal
Home (stays at home when not sunny)
Big Tree Plaza
Home (sleeping)
Festival
Home
Festival Grounds
Home (stays at home after 11am when bad weather)
Big Tree Plaza
Home (sleeping)
Special
Competitive Festival
Home
Festival Grounds
Home
Home (sleeping)
Other Festival
Home
Festival Grounds
Home
Big Tree Plaza, Orpha's Stone Bridge or walking
Blue Moon (at home when stormy)
Home
Home (sleeping)
Fishing Contest
Home
Festival Grounds
Big Tree Plaza
Festival Grounds
Home
Home (sleeping)
Beach Opening
Home
Ripple Beach
Home
Home (sleeping)
Firefly Festival
Home
Ripple Beach
Lackadaisy
Big Tree Plaza
Ripple Beach
Home (sleeping)
Holy Night
Home
Big Tree Plaza, Orpha's Stone Bridge or Rigbarth Outpost
Lackadaisy
Blue Moon (2pm-4pm at Big Tree Plaza when stormy)
Festival Grounds
Home (sleeping)
New Year's Eve
Home
Festival Grounds
Lackadaisy
Big Tree Plaza, Orpha's Stone Bridge or walking
Blue Moon
Home
Big Tree Plaza
Quotes
Page quote: Alright, I'd never lose to you!
Gallery
Sprites
Trivia
Lucy is an English name meaning "light".
References
 

Characters

Protagonist

Bachelorettes

Bachelors

Villagers

Children

Guests
 

Overworld

Dungeons