Ivan (イヴァン, Ivan) is a character in Rune Factory: A Fantasy Harvest Moon.
Schedule
Holiday
Location
Time
Benches left of Square
9:00 AM - 6:00 PM
Merchandise
Ivan has five sets of merchandise, one for each week of a season. This means that no matter the season or year, as long as it is the right week, Ivan will be selling from the corresponding set of merchandise.
Week One
Item
Price
Requirement
Kitchen (small)
1000 G
None
Kitchen (large)
1000 G
House Upgrade
Fridge (small)
1000 G
None
Fridge (large)
1000 G
House Upgrade
Week Two
Item
Price
Requirement
Cheese Maker
1000 G
None
Mayonnaise Maker
1000 G
None
Seed Maker
1000 G
None
Yarn Maker
1000 G
None
Yogurt Maker
1000 G
None
Week Three
Item
Price
Requirement
Shelves (small)
1000 G
None
Shelves (large)
2000 G
House Upgrade
Table Set (small)
500 G
None
Table Set (large)
1000 G
House Upgrade
Week Four
Item
Price
Requirement
Frying Pan
1500 G
Kitchen (small)
Knife Set
1000 G
Kitchen (small)
Mixer
700 G
Kitchen (small)
Oven
2000 G
Kitchen (large)
Pot
1200 G
Kitchen (large)
Steamer
800 G
Kitchen (large)
Week Five
Item
Price
Requirement
Double Bed
10000 G
House Upgrade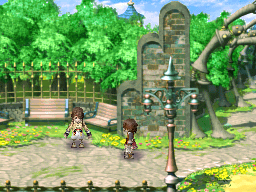 Ivan is a travelling merchant who visits Kardia every week on Holiday. Every week, he brings a different set of items. Ivan sells many home appliances and other recreational items. It is possible that Raguna is Ivan's long-lost brother, at least Ivan's peddling in hopes of finding him.
Open 9 AM - 6 PM on holidays.

Merchandise
Week 1
Kitchen
Small
1,000 G
Large
Refrigerator
Small
Large
Week 2
Cheese Maker
Mayonnaise Maker
Seed Maker
Yarn Maker
Yoghurt Maker
Week 3
Shelves
Small
Large
2,000 G
Table Set
Small
500 G
Large
1,000 G
Week 4
Frying Pan
1,500 G
Knife Set
1,000 G
Mixer
700 G
Oven
2,000 G
Pot
1,200 G
Steamer
800 G
Week 5
Double Bed
10,000 G
The large version of appliances & furniture, along with the Double Bed require an expanded home.
References
Trivia
Ivan is the one who gives Raguna the Radar Device.
At the end of Rune Factory, it is hinted that Ivan is Raguna's brother.
He is the first Earthmate that isn't playable.
In an interview it was mentioned that he is the king's second cousin, and that he came to Kardia specifically because he heard a rumor about Raguna being there.[citation needed]
He has some connection with the Earth Dragon Terrable.
Gallery
References