Fenith Island is where Aden and Sonja live.
Dragon Shrine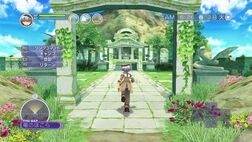 This is where you can give tribute to the Arch-Dragon, or make wishes to her if you donate money.
Odette
will conveniently appear whenever the protagonist is about to make a wish. Here are the options for wishing:
Learn about neighboring Islands: 500G You can learn what crops and ores are best planted at a certain island, or how to restore an island.
Learn about Fenith Islanders: 1000G You can find out what an islander's favorite and least favorite items are.
Be transported to another place: 3000G This shows up after you have raised a permanent island. This does not count for islands that Ymir must throw back into the sea after being raised. If you wish for this, there will be an animated scene were Talynn carries Ymir to the island that you wished for.
Collect more items from defeated monsters: 5000G After wishing for this, there will be a higher chance of monsters dropping an item after you have defeated them.
The De Sainte-Coquille Lane is accessible from here.
| Islanders | Odette's Comment |
| --- | --- |
| Lily | My sister Lily loves Fruit Parfait and hates Baked Apples. Anyway, what do you want to know that for? Fess up! |
| Odette | Why don't you just ask me directly if that's what you want to know...? I love Ratatouille and hate Fish Fossils. |
| Violet | Violet loves Emery Flower and hates insect skin. Violet will be thrilled that you asked. |
| Electra | Electra loves Teardrop and hates jewels. That's right... she hates jewels! Can you believe it? |
| Maerwen | Maerwen loves Pom-Pom Flower and hates spinach. It;s not good to be picky about foods, though. |
| Elena | Elena loves Small Crystal and hates milk. Elena hates milk. No wonder... |
| Sierra | |
| Mikoto | |
| Joe | |
| James | |
| Bismark | |
| Beatrix | |
| Bacchus | |
| Quinn | Quinn loves Ultimate Curry and hates carrots. I'm going to make a carrot cake for that little rascal! |
| Kelsey | |
| Gerard | |
| Jocelyn | |
Orange Circle
This is where the bathhouse, the De Sainte-Coquille family, and the blacksmith is. When in the bathhouse you can sometimes hear dialogue when various characters are there (some times in various groups, like Maerwen and Electra).
The Dragon Bathhouse can be used once a day to restore energy and HP bars. closed 12-3pm for cleaning by Maerwen.
the De Sainte-Coquille contains a crafting bench on the left side of the house on the first floor which can be used for basic crafting.  Electra, Beatrix and Maerwen live here together.
The Daedalus Blacksmith is open from 9am to 6pm except holidays. Ingredients (eg. bronze, iron crystals etc.) for forging can be bought here and an anvil on the first floor can be used for basic forging. Elena lives here with her older and VERY protective brother James.
Yellow Circle: Inn Area
The Yellow Circle is the Inn Area, which contains the Gemini General Store, your house, and the Three Sisters Inn.
Inn: Buy food to go or eat in. Also buy a few basic ingredients for food here. Kitchen in left room can be used for cooking. Open 9am except holidays
General Store: Buy several cooking ingredients here, as well as a few crafting ingredients and monster cookies. Open 9am except holidays. Option to work here is possible as a side job to earn a small amount of money and pass time quickly.
Your Houses: Permanent residence while on the island, can be upgraded through James' store. Access to golem and carpenter bench is available upstairs once the house has been upgraded.
Black Circle - White Sand Beach
Many festivals are held here, probably due to the fact it is very wide and open space. In the summer, you can also see bachelors and bachelorettes in their bathing suits. Once you've spoken them in their bathing suit, the option to see them in their bathing suits is available in the friendship menu.
Fish: Turbot, Gierella, Squid, Sardine, Needlefish, Shrimp and more can be caught here.
The Inn Area and the Seaside Cave are accessible from here.
Green Circle- Seaside Cave
The Seaside Cave connects the Docks and the Beach.
The protagonist can fish through large opening in cave's wall and in the cave's small pond.
Blue Circle - Fenith Port
This is where Bacchus and Joe's boat is anchored, and where Anette can be found on the 4th of every month. James and Bismark also come here for business purposes.
A monument stands at the heart of the port, and the Seaside Cave, Inn Area and the Church Plaza are accessible from here. 
Purple Circle - Church Area
This is where the church and the marketplace are located. The marketplace is an area that is open on Thursdays and on holidays from Noon to 6pm. There are 3 shops available in it: Joe's store, Jocelyn's Appraisal and James' House Upgrade store.
Joe's Store: Rune Abilities can be bought here. Additionally, Joe also sells Harvesters and Brushes.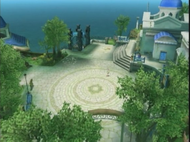 Jocelyn's Appraisal: You can bring small treasure chests here; they can be appraised for 500G each.
James' Store: Here, you can upgrade or buy expansions and crafting areas for your house.
The Clinic is located on the right side of the Church and run by Violet, though Electra also works part-time there. It is open everyday (excluding festival days) at 9am. Here you can buy potions, grass and be cured of sicknesses by Violet.
Other Islands
These are the islands found throughout the Fenith Sea.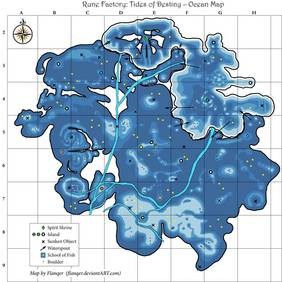 Location

Name of Island

E-5
Spring Island
C-7
Summer Island
C-3
Winter Island
G-4
Fall Island
E-7
Earth Spirit Shrine
B-6
Flame Spirit Shrine
H-5
Water Spirit Shrine
E-2
Wind Spirit Shrine
E-5
Verde Island
F-6
Shrine Island
E-8
Jungle Island
B-3
Desert Island
G-6
Statue Island
D-3
Shipwreck Island
G-2
Frost Island
H-4
Mystic Ruins
B-4
Coliseum
A-5, C-3 NE, G-3
Ancient Ruins
B-4, C-5, F-5, G-7
Ancient Statue
D-4, D-5, D-6, D-7,
E-3, E-8, F-9
Nameless Island
B-7, C-3 NW, D-2
Shrine
E-4, F-6, H-4, H-7
Wrecked Ship
Gallery
References
 

Characters

Protagonist

Bachelorettes

Bachelors

Villagers

Guests
 

Locations

Fenith Island

Element Shrines

Seasons Island

Temporary Island

Permanent Area
Community content is available under
CC-BY-SA
unless otherwise noted.