Dungeon Seed (, a) is an item in the Rune Factory series.
Appearances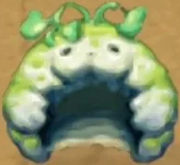 Dungeon Seed
Category

Seed

Sell

500G

Buy
5000G
Value
G
Growth
18 days
Harvested
If you keep restoring the HP of a Dungeon Flower by hoeing Corn/4-Leaf Clover/Withered Grass next to it, you can farm infinite Material Stone
Dungeon Flowers
These are dungeons that you can grow in your field. Before Blossom sells them, you can find the seeds for these dungeons by defeating Magnuto, a raccoon-like monster found in the Demon's Den in Sercerezo Hill. After the dungeon finishes growing, you can explore the inside. The content changes depending on the level of the dungeon and, like with most crops, dungeon flowers can be grown extra large.
Dungeon Flowers' crop level will Increase monster's level, Boss monster type and number of floor. For giant Dungeon Flowers will increase floor level by 4. You may equip Rosary to reduce room for each floor to 2 like Sharance Maze. At the following crop levels, bosses and number of floor are:
Crop level 1-4 - Boss: Greater Daemon, Number of Floor: 4 (Giant Crop: 8)
Crop level 5-7 - Boss: Octopirate, Number of Floor:6 (Giant Crop: 10)
Crop level 8-10 - Boss: Grimoire, Number of Floor:8 (Giant Crop: 12)
Giant Crop level 10 (with blue text) - Boss: lv 1010 Aquaticus, Number of Floor:20
Cleared Dungeon Flowers also make outside Boss Monster reward Sword Seed or Shield Seed, but may stop for unknown reason, re-clear Dungeon Flowers to get seed reward from outside Boss Monster again.
References