"I wanna become a detective and... and find our parents!"
―Cecil
Cecil (セシル, Seshiru, Cecile[1]) is a character in Rune Factory 5.
Profile
Personality
Martin's naïve younger brother who idolizes detectives and is trying to become one himself in order to track down their missing parents. He and Martin don't talk much these days, but even though they're a little distant, Cecil still loves him with all his heart. His insatiable curiosity helps him make friends with the protagonist.
Appearance
A boy with youthful appearance, Cecil has light skin with blue eyes and pink hair adorned by a black paperboy hat. He wears a white shirt worn beneath a yellow vest held by two orange buttons, both of them are covered with a red coat. This is paired with black pants with gold stripe and dark brown lace-up boots with black ties.
Story
Cecil was born to a family of two parents and an older brother, Martin. At some point, his parents went missing and he began wanting to become a detective to find them.
Gifts
Loved
"Oh wow! This is exactly what I wanted. Thanks so much! I promise to take really good care of it!"
Pink Melon, Relax Tea, Fruit Sandwich, Ammonite
Liked
Crystal Skull, Brooches, Fruits, Fish Fossil, Ancient Fish Fin, Dragon Bones, Unbroken Ivory Tusk, Conqueror Melon
Neutral
All items not listed in previous categories
Disliked
Cheese, Milk, Yogurt, Object X, Scrap Metal, Weeds, Withered Grass, Failed Dish, Disgusting Food, Rock, Branch, Can, Rare Can, Boot
Hated
Hot Milk, Milk Porridge
Battle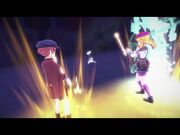 Cecil is able to accompany the protagonist into battle.
Stats
Lv
HP
ATK
DEF
M.ATK
M.DEF
STR
VIT
INT
1
57
5
1
26
1
5
3
16
Weapon
0%
25%
0%
0%
0%
0%
0%
Staff
Skills
Quote
"I want to become a famous detective like Terry!"
Toyherb: "Ooh, is this for me? Thanks! ♪"
Gallery
Sprites
Trivia
The name Cecil is of Latin and Welsh origin, meaning "blind".
He has the same birthday as Clorica in Rune Factory 4.
References
 

Characters

Protagonist

Bachelorettes

Bachelors

Villagers

Children

Guests
 

Overworld

Dungeons