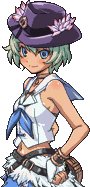 Bulletin board requests
Fishing!
I'm your master! I'll teach you how to fish.
Location: Bulletin Board
Unlock: Completed Gaius' request (Need some help).
Objective: Give Carmen a fish that can be caught in Spring.
Reward: Cheap Pole, Sardine
Requests 2: You better?
Come when your master tells you! I want to test you.
Requests 3: Need some help
I'm so busy! But my knife needs sharpening...
Requests 4: Can I ask
Answer your master! And don't lie!
Requests 5: Date!
Your master wants you! Just come see me.
Requests 6: About Carlos
Carlos is acting weird. I think he wants you to come to our home.
Mail's box requests
Requests 7
Requests 8
Requests 9
References
 

Characters

Protagonist

Bachelorettes

Villagers

Guests