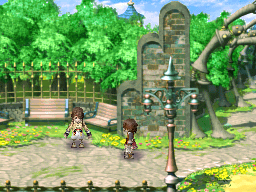 Ivan is a travelling merchant who visits Kardia every week on Holiday. Every week, he brings a different set of items. Ivan sells many home appliances and other recreational items. It is possible that Raguna is Ivan's long-lost brother, at least Ivan's peddling in hopes of finding him.
Open 9 AM - 6 PM on holidays.

Merchandise
Week 1
Kitchen
Small
1,000 G
Large
Refrigerator
Small
Large
Week 2
Cheese Maker
Mayonnaise Maker
Seed Maker
Yarn Maker
Yoghurt Maker
Week 3
Shelves
Small
Large
2,000 G
Table Set
Small
500 G
Large
1,000 G
Week 4
Frying Pan
1,500 G
Knife Set
1,000 G
Mixer
700 G
Oven
2,000 G
Pot
1,200 G
Steamer
800 G
Week 5
Double Bed
10,000 G
The large version of appliances & furniture, along with the Double Bed require an expanded home.
References