Alvarna (アルヴァーナ, Aruvana) is a location in Rune Factory 2: A Fantasy Harvest Moon. Alvarna is a maritime city relatively far from Kardia. As a city, it's smaller than the capital of Norad.
Inner Locations
Falling Star Path
Like in the name of this area, this is a quite beautiful dating area at night where once in a years, lots of shooting stars could be seen. In order to stay away from crowds, Barrett and Jake like to keep their distance and relax in this area during festival day's. Sometimes Cecilia and Dorothy may join the boys there as a date.


North Square
On the left, during sunny business days, Yue sell her specials goods as a travel and gift's merchant.
This places gather people especially during festival's days. On the right side is a free lot you could buy to build your first and last Barn.
During special occasion, you may encounter some citizen travelling by from a town area's to an another. Villager's prefer passing there than using the main street, next to the sea.

The Barn

The barn cost 5,000 G and 100 Wood pieces and start with 4 floors. Each floor could contain up to 4 monsters and Pet foods could be drop into outdoor barn's hole to create 10 more monster's feeds.
The outside sing serve purpose of monster's management menu, as similar to the one into the previous game's version.
to the others villagers.
Differently from the first Rune Factory, you don't have to manage feeds inventory on every floors. However be short of monster's feed make them lose friends points.
Floors
1F - BF3
First Floor
Basement Floor 1
Basement Floor 2
Basement Floor 3
BF4 - BF7
Basement Floor 4
Basement Floor 5
Basement Floor 6
Basement Floor 7
BF8 - BF11
Basement Floor 8
Basement Floor 9
Basement Floor 10
Basement Floor 11
Go to a deeper floor
BF12 - BF15
Basement Floor 12
Basement Floor 13
Basement Floor 14
Basement Floor 15
BF16 - BF19
Basement Floor 16
Basement Floor 17
Basement Floor 18
Basement Floor 19
BF20 - BF23
Basement Floor 20
Basement Floor 21
Basement Floor 22
Basement Floor 23
Go to a deeper floor
BF24 - BF27
Basement Floor 24
Basement Floor 25
Basement Floor 26
Basement Floor 27
Basement Floor 28
Farm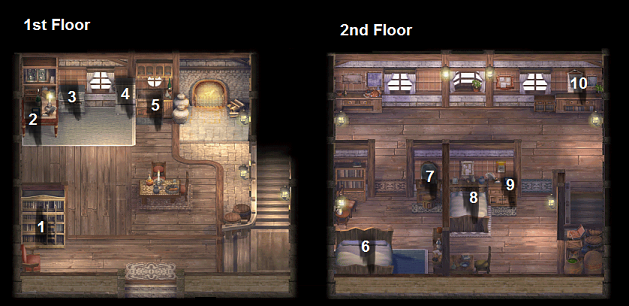 You gain the house in Rune Factory 2. at the start of the game just for being amazing you. This is where you'll save the game and sleep.


Furniture
1st Floor


1 Bookcase.   • 2 Diary.   • 3 Shelf.   • 4 Refrigerator.   • 5 Chest.
Per example quest items could be stored inside the shelf and seed's bags could be stored inside the refrigerator.


2nd Floor


6 Double Bed.   • 7 Vanity Mirror.   • 8 Single Bed.   • 9 Diary.   • 10 Calendar.

Your Farm


1 Farm Name and 3,4 total record's box heading
5,6 Total achievement on ship-able items which have been deposited in the box (100% means you have shipped every possible item in the game at least once.) 6 There is also the current achievement on ship-able items in the selected category
Total 3 gold, 7 wood and 8 feed on hand
The 4 total, 9 the most, and 10 the least you've earned from one item
12 - 17 A display of the current item being viewed; at the top left of this box is an icon of the item, to the right of this is the item's name, and below is a brief 11 description of the item. To the right of these is 11, 17 the level (grade) of the item, if you are viewing a 19 fish, the 18 size of it appears in the second box, and the 20 earnings from a quantity of one appear at the bottom
12 View Crops
13 View Potions
14 View Accessories
15 View Cooking
16 View Fish
17 View Curios
18 Sorting Options; automatic, or sort by total earnings in descending or ascending order
19, 20 Item name, and Total earnings from corresponding item
East End
De Sainte-Couille Park
Port
West End
From left to right. Buildings and their residents...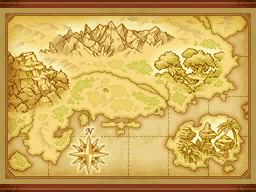 Mayor's House
Open: 9:00 AM - 6:00 PM
Second generation options
I want to talk to you
I want to make the barn larger (7).
I want to make the school larger (3)
I don't need anything right now.
Cherry Blossom Square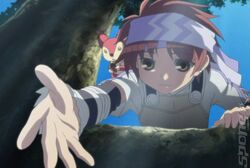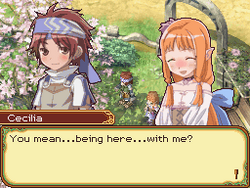 You could usually find Barret resting into this peaceful and quiet places. Spring make this area be the must for any date. In the second generation, this is where our town's school would be built.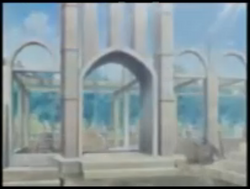 This area represent the Rune Factory 2's school. You can have access to 3 different small locations from there: Alvarna Pond, Alvarna School main buildings (the classroom), and the Dojo.
The school is divided into 4 different parts.
As the main building is built during the first era, Aaron and Aria could invest into 2 extension and into a new buildings, which includes Library and the Academy Workshop. Outside, the Academy-Dojo could be built.
To make rooms for the schools, the bench from the cherry blossom squares must have been removed, but not the cherry trees. After it's freely furnished, outside of the Academy, you could find 2 9x9 small square of soil fields. You can grown your own choice of grass' flower during every season, except winter because of the snowfall.
Pond
This area is used for internet communication involving monster's Also, fishing there can provide seasonal fish. Only few villagers visit this place; Yue could be found there during festival's days and into the second generation, Cammy like to pass her lunchtime into this refreshing place.
Alvarna Chapel
Open: 9:00 AM - 6:00 PM
Gordon (resident, employee)
Cammy (resident)
Dorothy (resident)
Trivia : As friends, Rosalind and Julia like's to gather into Dorothy's room.
Trivia : As for Cammy, Roy's like to visit her inside the chapel.
Trivia : Every characters could be seen inside the chapel when they deem most opportune.
Eagle Inn
De Sainte-Coquille Manor
Open: 9:00 AM - 6:00 PM
Trivia : In the first generation, Egan could be found inside the kitchen during Diner time. In the second generation, he is more likely to be found from lunch time to diner time. Occasionally Byron could be found toward Herman enjoying food and his special sense of humors.
Trivia : Cecilia free time are harder to find than the reverse. She work everydays from 9am to 6pm inside De Sainte-Coquille Manor, but finish 1 hour earlier on every Friday. When she is not at work, she wear a different outfit making her being the fist characters for the series to wear more than 1 cloth set.
De Sainte-Coquille Park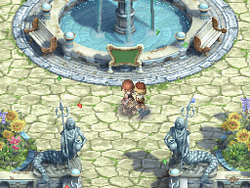 Notice Board

Re-playable or not, characters requests could be read on this notice board. The same happen to the engagement's request.
Yue's as a travel merchant
Yue's Shop
Inventory
Shop
20px
20px

Name

Icon
Charge
Description
Birthday Gift for:
Fried Rice

3780G
Rice and egg fried together in oil. The light, fluffy eggs are what make this dish great.
Douglas
Roasted Yam

1820G
A slow-roasted yam. Prevalent in the fall, often baked in the flames of a campfire.
Mana
Seafood Pizza

4140G
A pizza topped with shrimp and squid. Looks fantastic, and smells great, too.
Julia
Fried Udon

4280G
The first person to fry udon is said to have done so on a whim. Now it is widely loved.
Natalie
Emerald Ring

4880G
An emerald's brilliance adds beauty to any hand.
Alicia
Grape Juice

2300G
Fresh grape juice. Very sweet, with a strong, enticing aroma.
Ray
Amethyst Ring

5020G
An astringent, cool amethyst which creates a calm, mature atmosphere.
Gordon
Strawberry Jam

1060G
A sweet preserve made from strawberries. Generally eaten spread on bread or toast.
Dorothy
Hot Chocolate

1880G
Chocolate added to warm milk. Don't drink it too often, or you'll get cavities.
Cammy
Stew

3280G
Milk and vegetables boiled together. A creamy white stew is one of the most popular varieties.
Egan
Aquamarine Brooch

4080G
A brooch set with an aquamarine. As boldy blue as the depths of the ocean.
Cecilia
Platinum

8800G
A metal ore used to make weapons and accessories. Very rare, and hard to obtain.
Jake
Ruby Ring

6320G
Has a mysterious, appealing design. Look deep inside the ruby, and you'll get lost in its passion.
Tanya
French Fries

1740G
Peeled and sliced potatoes fried in oil. So crispy, salty, and addicting.
Roy
Seafood Doria

4000G
Doria that contains the best of the sea. Packed with seafood and rice, so it's sure to fill you up.
Byron
Skipjack Sashimi

1540G
Slices of raw skipjack tuna served up for consumption.
Barrett
Curry Rice

3600G
A mealtime staple, so much so that there isn't a soul, adult or child, who has not tasted it.
Herman
Hot Milk

1400G
The simplest of dishes. Just warm milk. Very relaxing, it's relaxing, it's perfect on a sleepless night.
Rosalind
Snapper Sashimi

2940G
Slices of raw snapper served up for consumption. Often thought to be a dish that brings good luck.
Max
Cabbage Cakes

3630G
Cabbages added to a water and flour paste, then baked. The exact recipe changes depending on region.
Yue
Alvarna - East End
Alvarna Clinic
Hours: 9:00AM - 6:00PM
Hospital
Inventory
Shop
20x20px20x20px20x20px
20x20px20x20px20x20px
20px20px

Name

Icon
Price
Description
Antidote Potion
325G
Antidote medicine that is much easier to swallow than its herb form.
Para-Gone
750G
Medicine that cures paralysis of the body. As a bonus, it also heals 30 HP.
Roundoff
500G
Medicine that cures the sealed status. As a plus, it also heals 30 HP.
Cold Medicine
875G
Catch a cold and you'll need to ask fast. Use the power of science to fight all illnesses!
Neutral Agent
100G
The best way to deal with poison in the fields! Totally neutralizes it! Fantastic!
Formula A
2000G
Fertilizer. Speeds the growth of crops by 1 day. You'll see the difference one day after use.
Medicinal Herb
30G
A wild medicinal herb that can be used to recover HP, so long as you can stand the bitter taste.
Antidote Herb

60G
A wild herb that cures poison. Very bitter. How bitter? Let's just say..., very, very bitter.
Black Grass
90G
Grass as dark as the night sky. Often gets trampled, as it cannot be seen once the sun gows down.
Orange Grass

30G
Grass the color of the summer sun. Just looking at it can give anyone a boost of energy.
Red Grass

30G
It's passionate, flame-red hue somehow promotes its growth, making it grow faster than other grasses.
Yellow Grass

30G
Said to bring good luck. Many people carry a hunk of it in order to boost their financial luck.
Blue Grass

30G
So cool to the touch, it will give one chills. It has a calming effect, and is often used in medicine.
Green Grass

30G
Regular green grass. Working hard to achieve indivicuality after being called "plain" for so long.
Purple Grass

30G
Top-quality grass. Very proud, it will only grow in top quality soil.
Indigo Grass

30G
Calming grass. Said to spontaneously sprout at the feet of arguing people, so that they make up.
White Grass

150G
Beautiful, pure white grass. Due to its color, it is easy to miss after a snowfall.
Pumpkin General Store
Open: 9:00AM - 6:00PM. Closed Holidays.
Douglas (resident, owner)
Mana (resident, employee)
Trivia : Alicia could be seen sometime on the first, and on the second floor, talking with Mana.
Inventory from the general store
Trivia : Milk and Eggs are not sold into every season's section.
General Store

Douglas
Welcome!
Don't feel shy 'bout spending' that allowance, kid!

Spring Special

BackPack
Shop

30px30px30px

30px

30px

30px

Description

Name

Icon
Growth
Menu
Price
Description
Pink Turnip Seeds
4
Spring Special
490G
Sown in Spring. Allows beautiful pink turnips to be grown.
Strawberry Seed
8 - 2
Spring

Special

2700G
Sown in Spring. Grows very sweet fruit. Multiple harvests possible, takes 2 days to bear fruit.
Cabbage Seed
11
Spring

Special

390G
Sown in Spring. Takes time to reach Fruition, and persistence is needed to grow them effectively.
Moondrop Seed

6
Spring

Special

260G
Sown in Spring. An easily-grown flower.
Toyherb Seed

12
Spring

Special

725G
Sown in Spring. A delicate flower that requires a little hard work to grow.
Onion Seed
7
Spring Special
345G
Sown in Spring. One of the easiest Spring vegetables to grow.
Cherry Grass Seed

60
Spring Special
4900G
Sown in Spring. Takes a long time to grow. Blooms with light pink flowers
Lamp Grass Seed

90
Spring Special
12000G
Sown in Spring. Takes a long time to grow. Mainly used as an ingredient in medicines.
Blue Crystal Seed

100
Spring Special
16200G
Sown in Spring. Takes a long time to grow. A blue, crystal-like seed.
Emery Flower Seed

120
Spring Special
27000G
Sown in Spring. Takes a long time to grow. Its golden seeds are often mistaken for real gold.
Pink Melon Seeds
20
Spring Special
4200G
Sown in Spring. The efforts of a sweet girl created these cute seeds.
Grass Seed

9 - 3
Spring Special
150G
Sown any time aside from winter, and then cut to make feed for monsters. Multiple harvests possible.

Summer Special

BackPack
Shop

30px30px

30px

30px

30px

Cucumber Seed
10 - 6
Summer Special
1100G
Sown in Summer. Multiple harvests are possible, takes 6 days to bear fruit.
Tomato Seed
10 - 4
Summer Special
990G
Sown in Summer. Nutritious tomatoes. Multiple harvests possible, takes 4 days to bear fruit.
Corn Seed
14 - 3
Summer Special
900G
Sown in Summer. Takes time to completely grow. Multiple harvests possible, takes 3 days to bear fruit.
Pumpkin Seed
12
Summer Special
840G
Sown in Summer. Seeds of a large, green pumpkin.
Pineapple Seed

20 - 5
Summer Special
3700G
Sown in Summer. Takes a time to completely grow. Multiple harvests possible, takes 5 days to bear fruit.
Pink Cat Seed

6
Summer Special
275G
Sown in Summer. An easily-grown flower.
Eggplant Seed
9 - 3
Summer Special
1450G
Sown in summer. Multiple harvests possible, takes 3 days to bear fruit.
Ironleaf Seed

40
Summer Special
85000G
Sown in Summer. Takes a long time to grow. Has unique properties that gather iron.
Clover Seed

60
Summer Special
64000G
Sown in Summer. Takes a long time to grow. Lucky seeds that bring good fortune when grown.
Fireflower Seed

90
Summer Special
4900G
Sown in Summer. Takes a long time to grow. Black seeds that look like gunpowder
G. Crystal Seed

100
Summer Special
14850G
Sown in Summer. Takes a long time to grow. A green, crystal-like seed.
Grass Seed

9
Summer Special
150G
Sown any time aside from winter, and then cut to make feed for monsters. Multiple harvests possible.

Fall Special

BackPack
Shop

30px

Potato Seed

7
Fall Special
220G
Sown in Fall. Has surprisingly beautiful flowers.
Carrot Seed

9
Fall Special
495G
Sown in Fall. A vegetable suited to the beginner.
Yam Seed

6 - 3
Fall Special
740G
Sown in Fall. Multiple harvests possible, takes 3 days to bear fruit.
Spinach Seed

5
Fall Special
395G
Sown in Fall. Like carrots, an easily-grown vegetable suited to the beginner
Green Pepper Seed

10 - 6
Fall Special
1725G

Sown in fall. Highly nutritious. Multiple harvests possible, takes 6 days to bear fruit

Charm Blue Seed

12
Fall Special
1100G
Sown in Fall. Watering every day is vital.
Autumn Grass Seed

60
Fall Special
6750G
Sown in Fall. Takes a long time to grow. Reddish, oval seeds.
Pom-Pom G. Seed

90
Fall Special
3500G
Sown in Fall. Takes a long time to grow. Soft white seeds.
Red Crystal Seed

100
Fall Special
17400G
Sown in Fall. Takes a long time to grow. A red, crystal-like seed.
Grass Seed

9
Fall Special
150G
Sown any time aside from winter, and then cut to make feed for monsters. Multiple harvests possible.

Winter Special

BackPack
Shop

30px

Turnip Seed

4
Winter Special
255G
Sown in Winter. A simple vegetable that's great for a beginner to try their hand on.
Noel Grass Seed

40
Winter Special
8500G
Sown in Winter. Takes a long time to grow.
Daikon Seeds

14
Winter Special
1650G
Sown in Winter. Takes a long time to bear fruit, if ever.
Leek Seeds

6
Winter Special
840G
Sown in Winter. An easy to grow winter crop.
W. Cabbage Seed

11
Winter Special
1200G
Sown in Winter. Takes a short while to grow.
Hot-Hot F Seed

20
Winter Special
4850G
Sown in Winter. Takes a tad bit of time to grow.

Fur Sleeping Bag
Any
560G
Used to sleep outdoors. Allows for a good, deep sleep, but can't be used if monsters are nearby
Feed

Any
5G
Monster feed. Surprisingly nutritious and sweet, it's something of a treat for monsters
Rice

Any
90G
A beloved staple of the dining table. Goes well with all other foods.
Chocolate

Any
150G
Smooth and sweet. The standard by which all other sweets are judged. Can also be bitter.
Wine

Any
640G
An alcoholic beverage made from grapes. Its smooth, adult taste has captivated millions.
Youth Grass

Any
250G
Deep blue grass from foreign land. Said to be good for maintaining beauty.
Flour
Any
200G
Powder made from wheat. A vital ingredient in a large number of dishes
Oil

Any
300G
Mainly used when frying foods to prevent burning or sticking, and to bring out flavor depth.
Curry Powder

Any
70G
Powder which forms the basis of curry. Created from a blend of various spicy herbs.
Dumpling Powder

Any
70G
Powder from which rice dumplings are made. Creates a sticky, squishy texture.
Fried Eggs

Any
690G
The definitive home-cooked egg dish. Its taste changes depending on the amount of love applied when cooked.
Small Milk

Any
120G
A small amount of milk taken from a Buffamoo in Messhina Valley. High in

calcium and other important nutrients.

Small Eggs

Any
110G
A small egg taken from a Cluckadoodle. Encased in a fragile white shell.
Wisdom Bathhouse
Open: 3:00PM - 12:00AM. Closed Mondays
Julia (resident, owner)
Trivia : Where the owner like to take up to 3 bath in a day, you can only go once a day.
Trivia : Everyone take a bath. Try to find everyone encounter's time.
Alvarna - Port
Table of content

You can take the boat here to Blessia Island. Alicia hangs around here on every sunny day that isn't a festival.
Tell me my Fortune

Weather Reading
Tomorrow's weather
I want it to be clear tomorrow.
I want it to be rainy tomorrow.
Never mind.

Location Reading
Douglas, Mana
Gordon, Dorothy, Cammy
Byron, Barrett
Sera and Serena
Julia
Egan, Cecilia, Jake
Herman, Rosalind, Max
Orland, Leonel
Nathalie, Alicia, Ray
Tanya, Roy
Yue
Leann
Someone Else
Someone else
Someone else
Never mind.
Hollyhalla! Jami-lala! Wahala!!!

Love Reading
Never mind.
New in Second Generation
Differences:
Yue shop position
Barn's floor could be added
New school inside the previous cherry blossom square
Cecilia's position change during holidays
Rival wedding effects upon characters' schedule
Douglas replaces Mana for the shipping box management
Every bed becomes used inside every house.
Fishing
Gallery
Reference